Beautifully aged wines
since 1850
Vineyard

Côte de Nuits et Côte de Beaune
Climat

The climate has a continental influence: hot summers and dry autumns allow the grapes to ripen in ideal conditions. The climatic conditions encourage the development of sugars and the substances that give the grapes their colour.





Unique characteristics

Known for its celebrated mosaic and the lovely Citroën van that used to make deliveries to the entire region fifty years ago, Maison Moillard is a veritable institution in Nuits-Saint-Georges. Our company has built up its unique expertise in the art of producing and ageing Bourgogne wines and Crémants and now offers an impressive selection of appellations from the entire Bourgogne area, from Chablis to Mâcon and as far south as the Beaujolais. Travelling the highways and byways of Bourgogne, our oenologists select the most perfect grapes from the best plots in order to enable our wines to express the full diversity of the Bourgogne terroirs.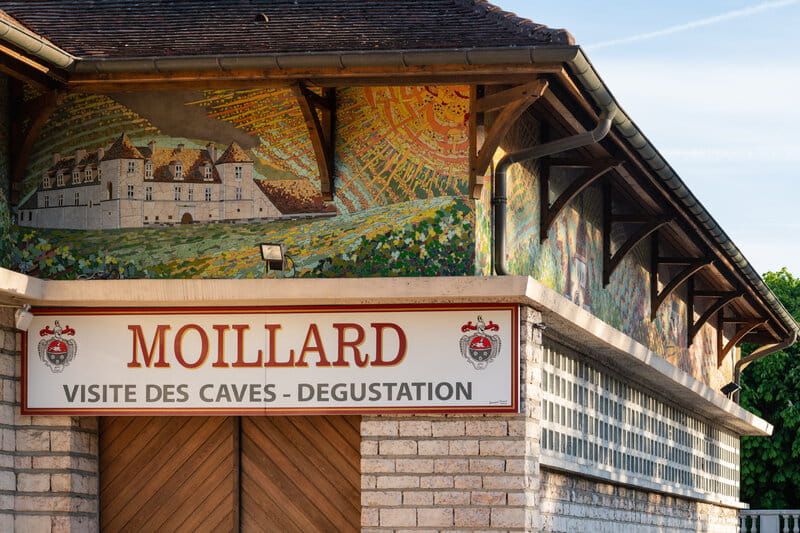 History

The archives in Nuits-Saint-Georges bear witness to the fact that Moillard family already owned vineyards prior to the French Revolution. In 1848, Symphorien Moillard married Marguerite Grivot, whose family owned vines. As the fledgling business developed, the first train on the new line serving Paris, Lyon and Marseilles (the "P.L.M.") brought a Belgian notary to Nuits-Saint-Georges in 1850. He would become Symphorien Moillard's first international customer. After tasting the company's wines, the notary was so taken with them that he persuaded Symphorien to send a selection of Bourgogne wines to him in Belgium. This marked the start of Moillard's business as a wine merchant and its first exports. This new business demanded considerable expertise when it came to anticipating the ageing potential of wines over three, five or ten years. Since then, Moillard has continued this meticulous work of vinification and ageing to allow the wines to achieve the full potential.



A Word from the Oenologist

"Our wines are now full-bodied and modern, at once accessible and faithful to the diversity of terroirs found in Bourgogne. Maison Moillard can now be found throughout France and in more that 50 other countries, and we are proud to be able to share our passion for these terroirs with wine connoisseurs wherever they may be." Baptiste Corrot, Oenologist at Maison Moillard